Netgear R800 Nighthawk X6 Review
I am a Netgear ambassador and was provided a unit to review. My thoughts are completely my own.
If you are anything like me, your house is a digital drop zone. At any given time I have several phones, tablets, a main PC, a streaming PC, a XBOX and a sprinkling of chromecasts on my wifi network. If someone else comes by with their phone, you can add in a few more connections. I had a complicated network setup that included a few extenders to make sure that all parts of my house and devices were covered. At times, especially when say one person was watching youtube, and another was streaming Netflix, while I was playing on the Xbox, there would likely be some lagging. This is not lagging from my internet bandwidth lagging. This is lagging from my router going – WHAT THE HECK DO WE DO.
Enter the Netgear R800 Nighthawk X6.
This sleek futuristic advanced looking router looks like something straight out of a sci-fi movie. It has six little fold-able arms to help you achieve the best signal. Set up is straight forward and simple. Plug your modem into the back, connect to http://www.routerlogin.com (it loops to your internal ip!) via a wifi device, enter your password and a few clicks later you should be up and going. The Netgear R800 Nighthawk X6 as one simple out of the box device replaced the need for extenders in my household set up. This is a huge plus right out the door. I had paid over $100 for one of these wifi extenders and if you are having similar house connecting issue perhaps this is the way to go for you also. For testing purposes, I attached one of the extenders back into the mix and it worked quickly with ease in the house as well. You can mount the Netgear R800 Nighthawk device on the wall or leave it on a table top.
The front of the Netgear R800 Nighthawk X6 is a light show of epic proportions! There are lights for the internet connection, USB connections, and Ethernet connections with dual colors to let you know exactly what is going on. There is also a nice simple "on / off" button if that is too much light pollution for you. There are two USB ports.. one 2.0 and one 3.0. For what you ask? A shared printer AND a network storage device! Yee! With the Netgear R800 Nighthawk X6, You can have more than one! All the typical high end router items are also here like parental controls, guest network and custom wifi security settings.
There were two additional set up items I found were required with my set up 1) setting up the "smart connect" feature so that the router can do its magic and 2) Setting up the Dynamic QOS to allow it to put your bandwith to best use. Having these two simple options enabled allowed for constant streaming, gaming and surfing without interruption. Of course there is also an app for your router. You can login remotely even! Keep tabs on whats going on at home, reboot and more all from and IOS or Android app.
There is a hefty price tag on this router at over $200 USD. That means this beast is not going to be for everybody. If you are like me though and you have a streaming, multi client use household, this device might be just right up your alley. I recommend it, and haven't had any issues since switching.
You can purchase the Netgear Nightawk X6 from Newegg for $247 (aff)-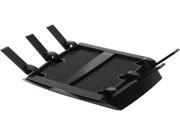 I am a Netgear ambassador and was provided a unit to review. My thoughts are completely my own.